About N.V. Van Alen's Beton Industrie
N.V. Van Alen's Betonindustrie, VABI, is an industrial enterprise doing anything to add meaning to the term quality in its widest interpretation. For over 60 years, VABI has specialized in the production of high quality concrete products.
At VABI you will find all your concrete products such as: blocks, paving stones, sewer culverts, pavement tiles, V-gutters, curb stones, flower pots etc. If our standard assortment of about 400 products does not satisfy your needs, we can always manufacture specific concrete products on request. We aim at providing you as our customer with all the concrete products you need. We also supply you with reinforcement steel, cement, gravel and sand as well as tiles, mortar fixatives and various other construction products. Together we can always find a way to satisfy your building material needs.
VABI is a family enterprise that is particularly dedicated to the welfare of its 300 employees. The sound and pleasant work climate enables us to serve you optimally.
At all times, VABI guarantees service, quantity and above all the quality of its products and services. Based on this, we can proudly say: "Meer dan steen alleen!"
Our Mission and Vision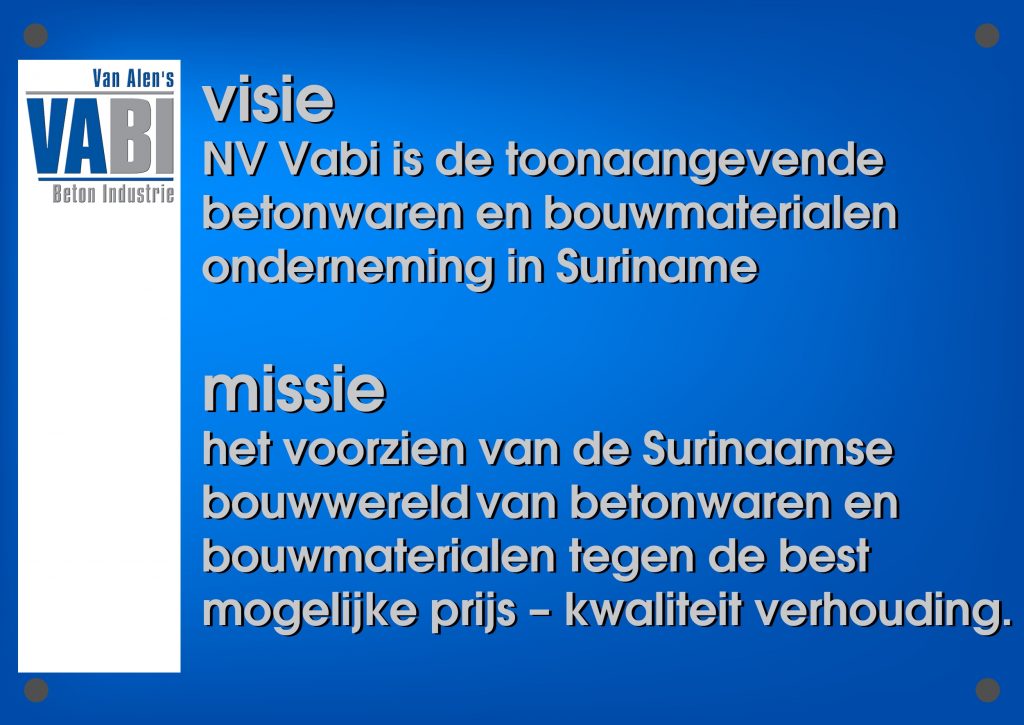 VABI has the following objectives in view:
The production of concrete products, either reinforced or otherwise, at the best prices possible, proportionate to quality;
To supply the Surinamese construction community with cement, sand, gravel and reinforcement steel as well as tiles, mortar fixatives and several other construction materials;
To produce customized pre-fab concrete elements.